2019 biopharma IPOs outpacing 2018
But VC funding levels down 25%+ from a record 2018
Richard Murphey, 5/13/2019
2018 was a banner year for biopharma startups, with venture funding hitting an all-time high and one of the hottest IPO markets ever.
But the year ended on a depressing note. Declining biopharma indices, Moderna's post-IPO slump and the government shutdown led to fears that 2018's hot IPO market wouldn't last into 2019.
Those fears don't seem to be substantiated. As of May 13th, 2019 has seen more major (major = IPO proceeds of over $50M) venture-backed biopharma IPOs on US exchanges than 2018, with 50% more raised in YTD 2019 IPOs compared to 2018.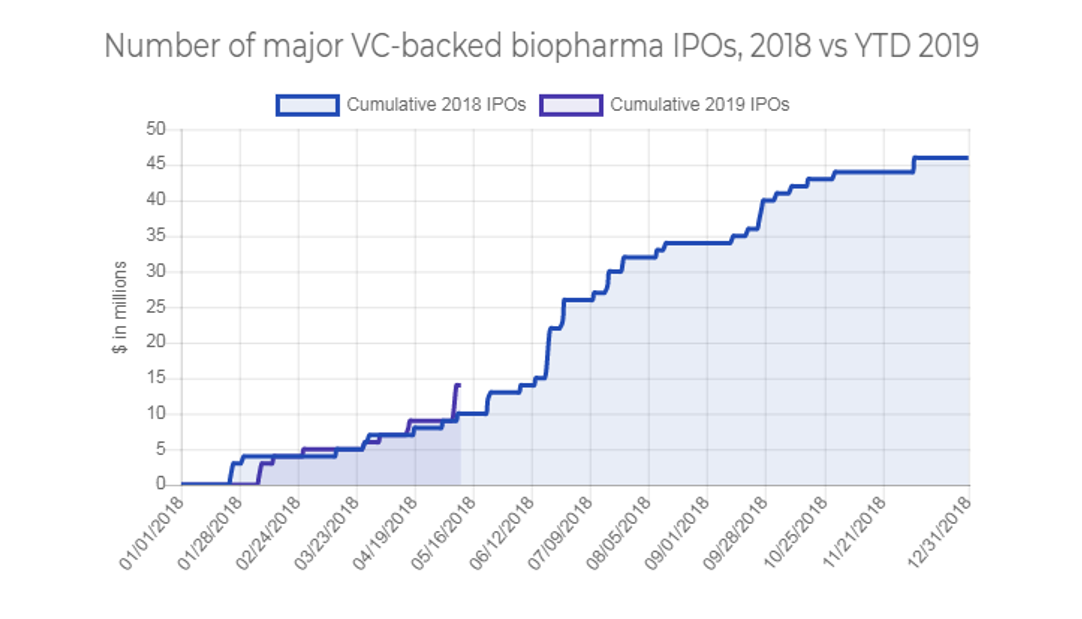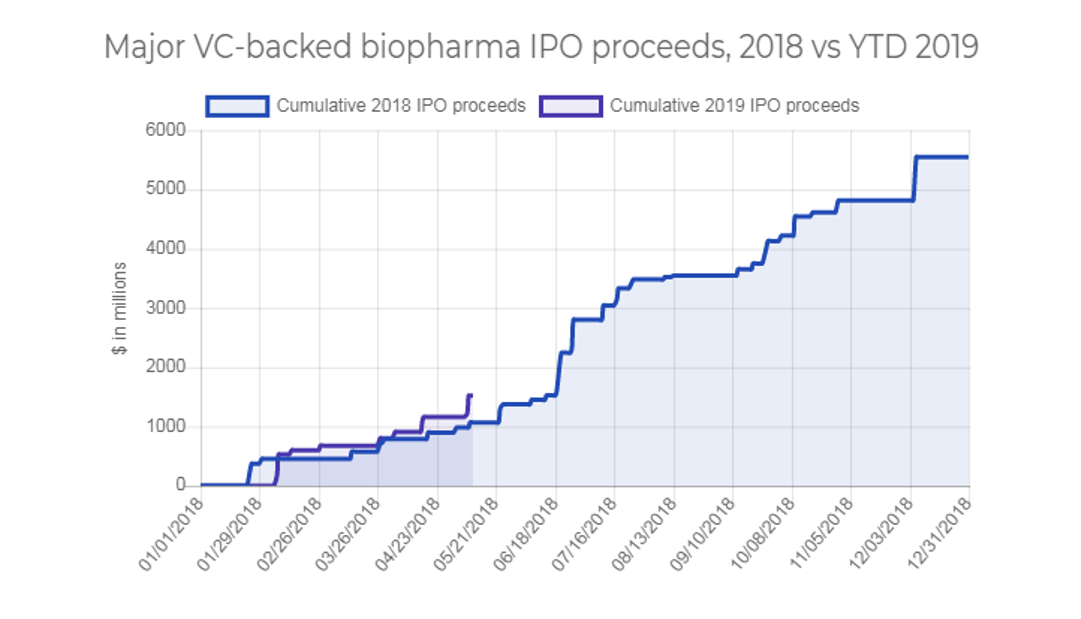 Of course, it's too early to tell if this trend will continue. IPO activity is lumpy and unpredictable. 2018 saw a flurry of IPO activity in the summer, with over a third of the year's total IPO proceeds raised from late June through July. May 2019 is shaping up to be a similarly busy month, with Codiak Biosciences, Ideaya Biosciences, Peloton Therapeutics and Bicycle Therapeutics expected to go public in addition to the companies that already hit the market this month. But renewed fears of a trade war may douse the IPO market just as it is heating up.
Did the increase in IPO activity come with an increase in valuations? It doesn't seem like it. 2019 YTD IPOs have had average post-money valuations of $597M and median post-money of $476M. Through May 13, 2018, average and median IPO post-money valuations were $538M and $542M.
VC funding down over 25%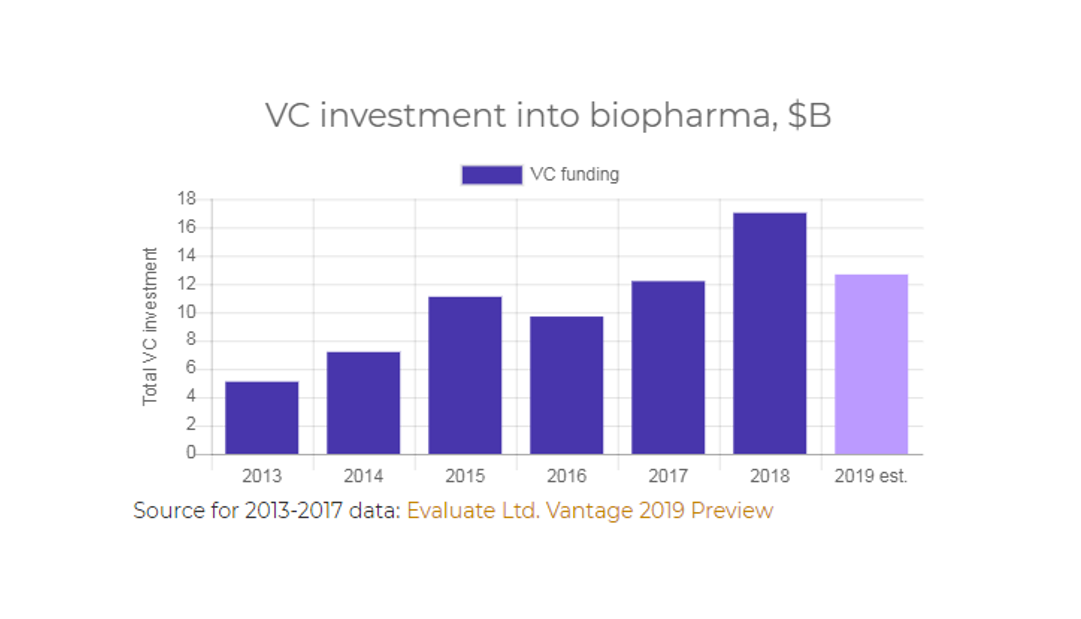 The VC market has been less rosy than the IPO market. VC funding is down significantly since 2018. This time last year, biopharma startups had raised $6.2B. Thus far in 2019, startups have raised only $4.6B. If this continues, 2019 would still be the second-best year for VC ever. But a 25%+ drop in dollars invested would be the largest year-over-year decline in a long time.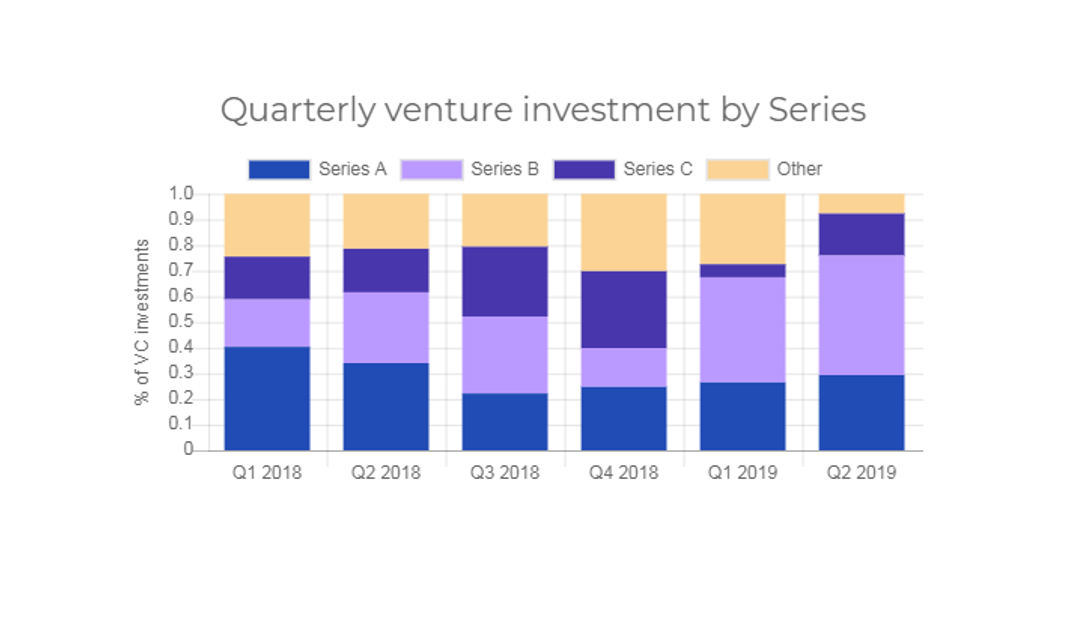 This decline appears to be driven by a drop in later-stage investing, and a slight decline in Series A investing. Series B funding has remained strong.
Has a hot IPO market replaced Series C and D investing? It doesn't appear that's the case. Over 60% of biopharma companies that went public from 2018-YTD 2019 raised Series C rounds. Of the 14 IPOs YTD, 10 raised Series C rounds, and 6 raised Series D rounds.
It may be the case that there is a squeeze in Series C and D funding: more money is going into Series B deals, potentially pushing valuations up, but IPO valuations have remained constant. Series C and D investors might be stuck in the middle: paying up to get into deals, but not being rewarded with higher valuations from IPO investors. This is just speculation, however -- there could certainly be another explanation.
Outlook for the rest of the year?
What happens next is anyone's guess. Biotech has been hit hard (along with the rest of the NASDAQ) in the last few days by trade war fears. Startups and their investors are still dependent on a strong IPO market to exit their investments, so bearish public markets combined with the aforementioned decline in late-stage VC could be a bad combination for early-stage startups. The M&A market could come to the rescue, but it seems unwise to bet on that happening. There have been $17.7B worth of M&A exits in 2019. By May 2018, two buyouts alone -- Juno / Celgene and AveXis / Novartis -- totaled $17.7B. And 2018 was viewed as a disappointing year for M&A.
Or these trade war fears could dissipate, just as they did last year. Healthy public markets could continue to fund the next generation of biotechs, and newly commercial-stage / soon-to-be commercial-stage companies like Ionis, bluebird, Sage, Alnylam and Agios could become the Celgene, Regeneron, Amgen and Biogen of this generation.
If you'd prefer to keep a close eye on the present rather than try to predict the future, you can check out our biopharma startup trends dashboard, which tracks biopharma venture funding, IPO and M&A activity. It's updated several times a week, so you can stay on top of deal activity as it happens. We'll publish quick write ups like these when noteworthy trends emerge: sign up here to stay in the loop.