Find undiscovered talent and technology
There are three primary ways we can help you find talent, discover technologies and build your brand among young scientists:
Host a student visit or give a guest lecture as part of our 10-week Venture Testing Lab programs
Host an event for our network of young scientists and entrepreneurs
Sponsor a weeklong "innovation challenge"

You select areas of scientific interest
Bay Bridge Bio recruits grad students and postdocs with relevant technical backgrounds
Bay Bridge Bio works with your company to design an intensive weeklong program during which students identify relevant technology with commercial potential
Technical experts from your company provide ongoing feedback to ensure high quality of ideas
Students present their findings at a "pitch day" and submit detailed landscape analyses
Do you have an idea for a collaboration?
We'd love to hear how we can help you find technologies and talent.
Why work with Bay Bridge Bio?
Support the next generation of talent
Expertise in the next generation of therapeutic technologies lies with young academic scientists. These scientists are incredibly talented but underserved by existing career development programs.
A little bit of help goes a long way -- and will be remembered for the rest of their careers.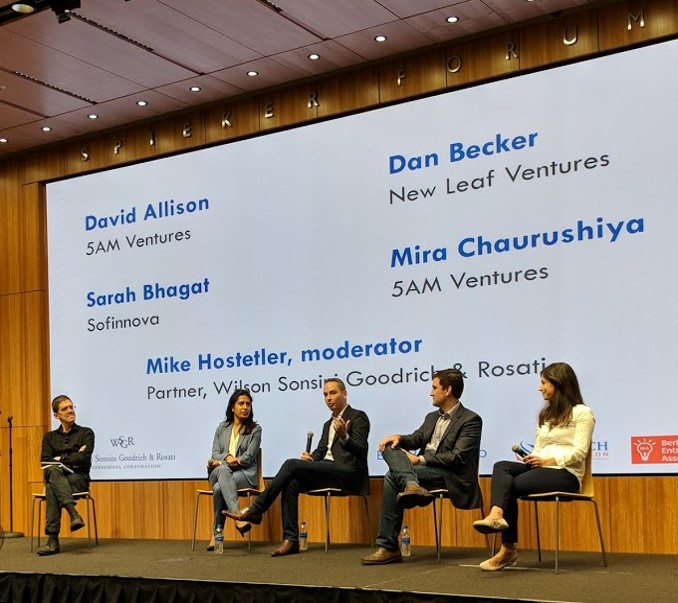 Find undiscovered talent
Bay Bridge Bio is often these scientists' first exposure to the biopharma industry. Alums have joined leading venture funds, consulting groups, and startup companies.
Find undiscovered technology
Projects tend to focus on outside-the-box technologies at the intersection of biology and engineering: engineered therapies targeting the tumor glycode, autophagy modulators for cancer and cardiovascular disease, next-generation "living" therapies. "Beginner's mind" + fluency in emerging tech + guidance from experienced professionals = "why didn't I think of that?"
Find founders and startups that no one else is looking for
Biotech VCs focus on experienced entrepreneurs. Tech VCs focus on software engineers and data scientists. No one is funding young biologists and bioengineers.
But historically, young CEOs and scientists have started most of the lasting biotech companies.
Read why we think the time is right for young biotech founders.