Chinese investment in US biopharma startups down over 80% in 2019
Richard Murphey, 6/18/2019
The highlights:
Through June 18, 2019, the number of Chinese investors that led venture rounds in US biopharma startups is down 83% compared to the same period in 2018.
In 2018, 25% of investors who led Series B rounds in US biopharma startups were Chinese investors. Thus far in 2019, only one Chinese investor has co-led a Series B round in a US biopharma startup 1.
Overall Series B investment in US biopharma startups is up 17% year-to-date in 2019 compared to 2018. US biotech VCs have picked up where Chinese investors have left off.
In 2018, health and biotech surpassed real estate and entertainment as the top recipients of Chinese capital in the US 2, 3. In the first 3 quarters of 2018, Chinese investors accounted for over 40% of venture funding into biotech 4.
But thus far in 2019, Chinese investment into US biopharma companies has virtually disappeared.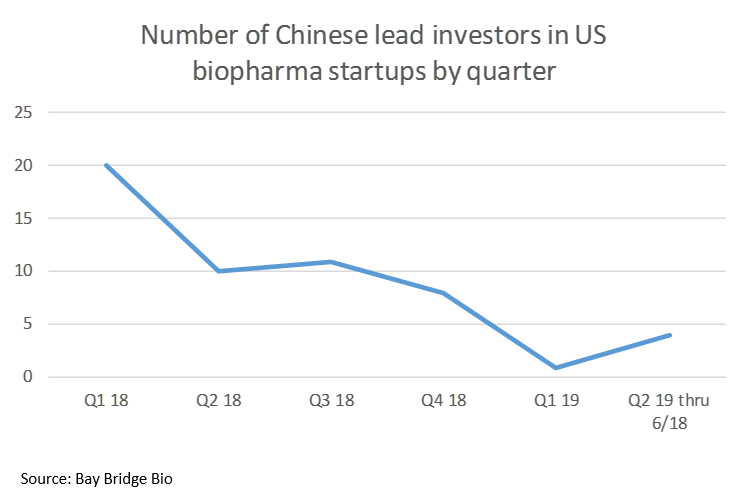 This decrease in Chinese investment is a direct result of the recent trade conflicts between the US and China. New US regulations on foreign investments in US technology companies came into effect last August 5. These regulations expanded the power of the Committee on Foreign Investment in the United States (CFIUS), giving it the ability to examine foreign minority investments in startups.
The new CFIUS regulations make it more challenging for startups to accept investments from foreign investors. Among other things, the regulations require startups to file additional paperwork to get deals with foreign investors approved, and there is a risk that CFIUS recommends the President block a transaction.
At the time the new regulations came into effect, it was unclear the exact magnitude of impact they would have on foreign investment. Though Chinese investors continued to fund US biopharma startups in the second half of 2018, Chinese investment into US biopharma companies dropped off a cliff starting in 2019.
CFIUS is changing the Series B funding landscape
The most notable shift has been in the Series B funding landscape. In 2018, 25% of lead investors in Series B rounds in US biopharma startups were Chinese investors. Through June 18th, 2019, just one US-based biopharma startup has raised a Series B with a Chinese lead investor according to our startup database 1.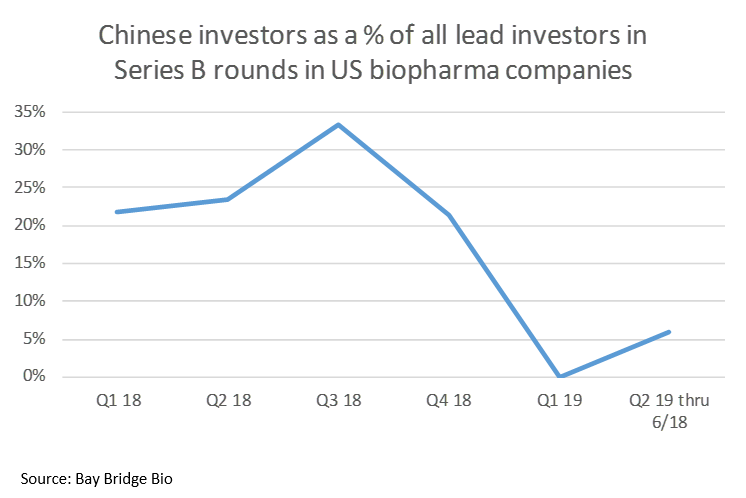 If you are a Series A-stage startup, the retreat of Chinese investors may not be great news, especially if you've invested time in building relationships with these funds. But the good news is that other investors have picked up the slack: the first two quarters of 2019 saw more dollars invested in Series B rounds in US biopharma startups than any quarter in 2018.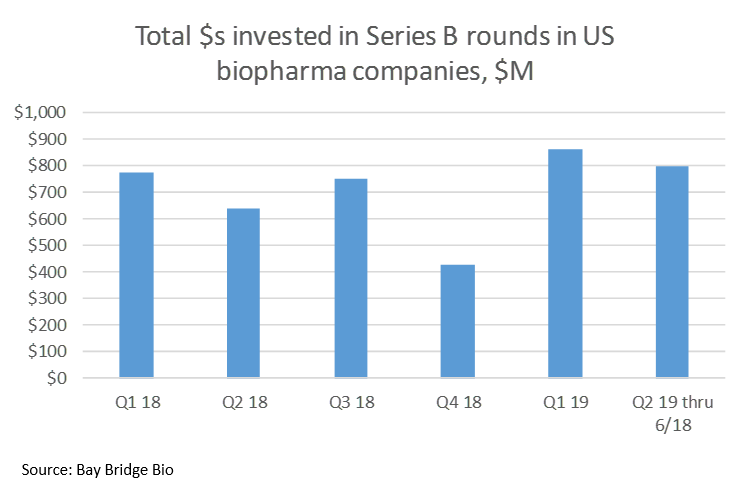 There are plenty of investors who, after years of rising valuations, are probably jumping at the chance to compete for Series B deals again.
Find biopharma investors who lead Series A and B rounds
Get a list of biopharma investors who led $10.2B in Series A and B rounds from 2018 through today
Who has been picking up where Chinese investors left off? US-based biotech VCs have picked up most of the slack. In the first half of 2018, only 5% of lead Series B investors in US biopharma companies were US-based biotech VCs. In Q2 2019 (through June 18th), 47% of Series B rounds were led by US biotech VCs.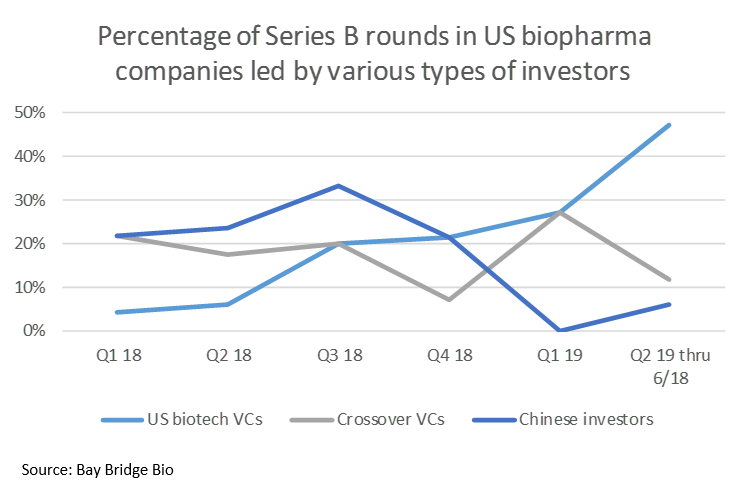 Crossover investors have been the third-most active lead investors in Series B rounds, but they have remained at a steady level of ~20% of lead investors from Q1 2018 to YTD 2019.
Overall, it doesn't look like the retreat of Chinese investors has resulted in a major decrease in companies getting funded. But it is possible that with fewer investors competing for deals, Series B valuations have decreased.
If Series B valuations have in fact declined, it could be a great time to be a Series B investor. 2018 was a record year for Series A investments in biopharma startups, and a lot of those companies will be in the market for their next round of funding soon.
Find biopharma startups that are raising Series B rounds
Get a list of biopharma startups that raised a total of $5.1B in Series A rounds in 2018 and are likely raising Series B rounds soon
With investments in US companies more challenging, Chinese investors will likely turn their attention towards their burgeoning domestic biopharma industry. China is home to many of the world's best scientists, investors and entrepreneurs, and their biotech industry has grown at a remarkable pace over the last decade. While trade tensions are leading to some concerning actions, it does not appear that biotech in either China or the US will be too negatively impacted by the current geo-political environment. Which is ultimately good news for everyone, because there is very exciting science in both countries.
1 Pivotal bioVentures, a biotech VC funded by Hong Kong-based real estate developer Nan Fung Group, co-led a Series A2 in Inozyme Therapeutics. Sofinnova Investments co-led the round. Although it was technically an A2 round, I included it with Series B investments as it had new lead investors and the Series A was in 2017.
2 US-China Economic and Security Review Commission
3 Bloomberg, "China's Biotech Investors Have Caught a Chill"
4 Reuters, "As China builds biotech sector, cash floods U.S. startups"
5 Reuters, "Chinese tech investors flee Silicon Valley as Trump tightens scrutiny"
You may also like...
Top biotech venture capital funds of 2018
List of recently funded biotech startups
Valuations of biotech startups from Series A to IPO
Venture returns from biopharma IPOs, 2018-Q1 2019
Bay Bridge Bio Startup Database