I estimated the proceeds generated by these exits as of September 30, 2018, which is the date of the IRR in the above Preqin chart, except for companies that went public or were acquired after that date – in which case I valued the companies at IPO price or price at M&A.
TCG had 3 investments that generated $200M+ in proceeds each. Another 3 exits generated $100M.
For Seragon, I estimated proceeds based on the TCG's ownership at time of acquisition (which they conveniently publish here). Seragon was acquired for $725M upfront and up to $1,750 including milestones; I assume the total value is the average of the upfront and total potential value. Peloton was acquired for $1.1B upfront and $2.2B total including milestones; I exclude the milestones as the company was acquired recently so has had less time to achieve milestones. For Flexus, I assume TCG owned 20% at exit (this Fortune article says KPCB owned 30%, so I assume TCG owned a bit less).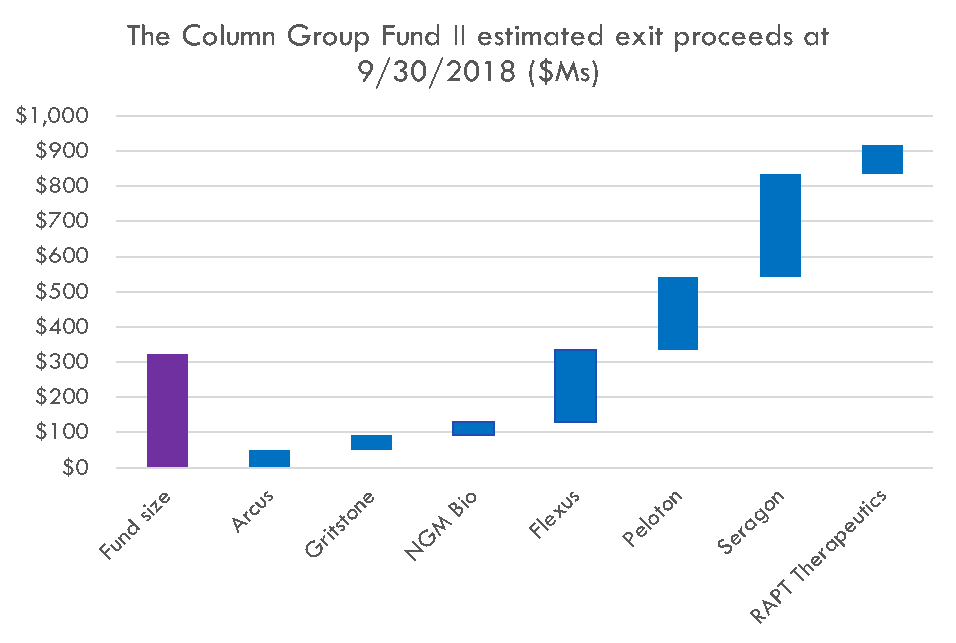 While this was an impressive fund, it is unclear how Preqin got the 367% IRR for this TCG fund. My guess is that it came down to timing in the IRR calculations. Preqin lists the fund as a 2014 vintage, although the first close for the fund occurred in early 2010. Seragon and Flexus were large and very early exits –July 2014 and February 2015 respectively – and the timing of those exits shortly after the final close of the fund could have made the fund IRR very high, depending on the exact timing of cash flows.
In any event, TCG has more than doubled its fund just 5 years after the fund was closed and they have seven late-stage investments that could exit in the near term. Two of these un-exited companies have done large partnerships: Nurix has two partnerships worth almost $200M upfront and over $2.7B total, and Carmot has done two partnerships (one with Amgen, one with Genentech) but has not disclosed financials for these.
Foresite
Foresite was founded by Jim Tanenbaum, a successful biotech serial entrepreneur. Jim founded GelTex Pharmaceuticals, which was acquired for $1.6B in 1999, and Theravance, which split into two companies that have combined market cap of $3.3B. Foresite's other partners come from diverse backgrounds including traditional biotech VC as well as computational biology backgrounds (including Verily's former Chief Science Officer).
Foresite's initial $100M fund was raised in 2012. This was a growth equity / public equity fund focused on healthcare. From what I can tell from their SEC filings, most of their investments were in public companies. Therefore I won't spend as much time analyzing this fund, as it wasn't a traditional venture fund.
Foresite I's strategy was the perfect strategy at the perfect time: in 2011-2013, public biotech valuations were very cheap compared to current and historic levels. There were many high-quality late stage public assets available at good prices. The biotech market started heating up around 2013-2014: the IPO window reopened after a nearly decade-long drought, and big pharma companies began buying innovative startups at a record pace. This rewarded investors like Foresite who recognized the opportunity in biotech while other investors were hesitant to invest in the sector.
Generalist public equity investors quickly took notice of these rising biotech returns and flocked to biotech stocks. Sophisticated investors like Foresite moved from investing in public growth rounds to "crossover" investing (funding the last private round) and, later, to traditional VC.
Today, Foresite is very much a true venture fund and has an interesting strategy that combines traditional biotech investing strategies with an internal bioinformatics platform and an incubator for companies using technology at the intersection of biology and big data. It has had some great exits from its venture portfolio, most notably 10X Genomics. 10X went public in September 2019 at a ~$4B valuation, and Foresite is the largest institutional shareholder.
Benchmark VC performance
Deal-level cash-on-cash returns, proceeds from exits, check sizes, and more for thousands of public and private biotech investors covering hundreds of billions of dollars in biotech investments.
Flagship Pioneering
Flagship, like TCG, is a leading early-stage biotech fund focused on in-house company creation. Flagship has a unique company creation process in which young scientists collaborate with senior partners to create and test "venture hypotheses". The most promising ideas are tested in the wet lab, and if the science works, additional capital is deployed against the opportunities. Flagship typically funds these companies through Series A and then syndicates later rounds. For a great overview of Flagship's strategy, see this talk from Flagship Managing Partner Doug Cole at Columbia.
Flagship's investments tend to be in companies developing novel platforms: mRNA therapy (Moderna), red blood cell therapy (Rubius), CRISPR gene editing (Editas), microbiome therapy (Seres, Evelo), glycans (Kaleido), combinations of metabolic compounds (Axcella), and others. They also fund non-therapeutics companies (Indigo Ag, TransMedics).
This contrasts a bit with TCG's strategy, which focuses more on traditional modalities (small molecules, biologics) but builds companies around new insights in biology or biochemistry (although TCG certainly has gene and cell therapy companies, especially in its latest funds). Both funds have some element of contrarianism (Flagship's focus on non-traditional modalities and "out there" science, TCG's willingness to have a concentrated portfolio and take on risks that others might shy away from). TCG also has more M&A exits than Flagship: by my count, no Flagship Fund IV companies exited via M&A.
Flagship Fund IV
Flagship Fund IV, the fund highlighted in the above chart, was a phenomenal fund, but Flagship's other funds also generated impressive returns from investments in companies like Receptos (acquired for $7.2B in 2015), Agios (public company with $2B+ market cap and 2 approved drugs), Denali Therapeutics ($1.5B market cap) and many others.
I was able to find 13 investments from Flagship Fund IV. Eleven of these companies went public. The combined market cap of these companies at the time of IPO was $14B, and the average market cap was $1.3B. Flagship owned on average 28% of these companies at IPO.
That is pretty amazing.
None of them have been acquired to date. Only one (Midori Health) seems to be dormant, and I'm not even sure that this was a Fund IV investment (the company was founded in 2011, during the investment period for Fund IV), but I found no more details. One other company, Indigo Ag, recently raised a very large round and seems likely to be a winner, although I'm not sure if this is a Fund IV investment (like Midori, it was founded during the Fund IV investment period, but I haven't seen data confirming it is a Fund IV deal).