Who is still investing in biotech?
May 24, 2022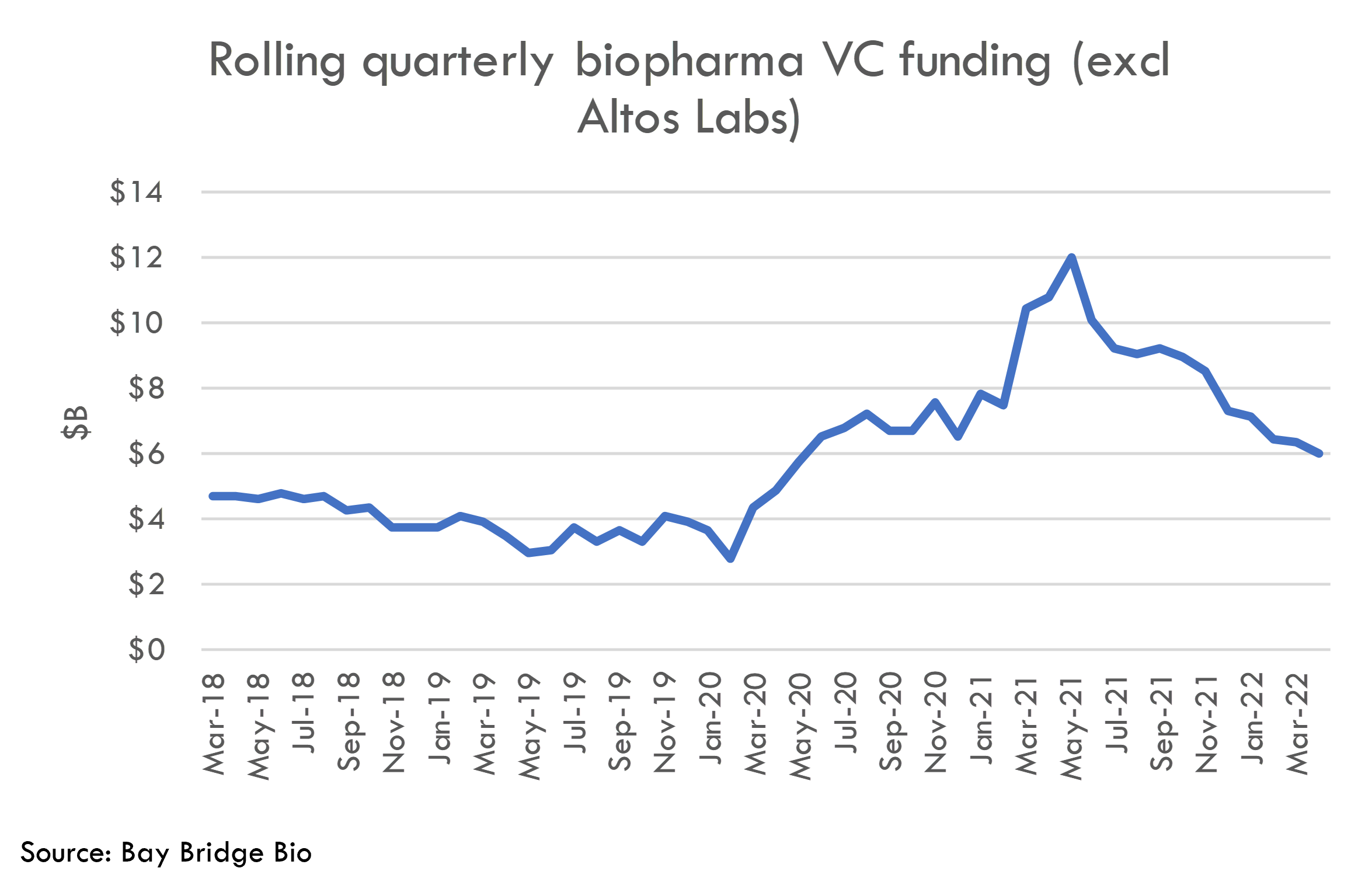 Venture investments into biopharma startups have declined almost 60% since the peak in early 2021. Who is still investing?
The good news is that there are still plenty of active investors. Funding is still near record levels – monthly funding is still higher than it has been any time since before COVID.
But the rapid decline in funding means that financing conditions for startups are tough. Biotech startups received a record amount of funding in 2021 – and these high-spending companies are fighting for an increasingly small pool of venture capital.
As the Fed continues to raise rates, funding conditions may continue to tighten. Raising now (even at a lower-than-expected valuation) may be a good idea.
Series A vs. Series B funding
We'll focus on Series A and B funding announcements 1. In the frothy IPO market of recent years, Series B rounds were often "crossover" rounds -- the last private rounds before IPO.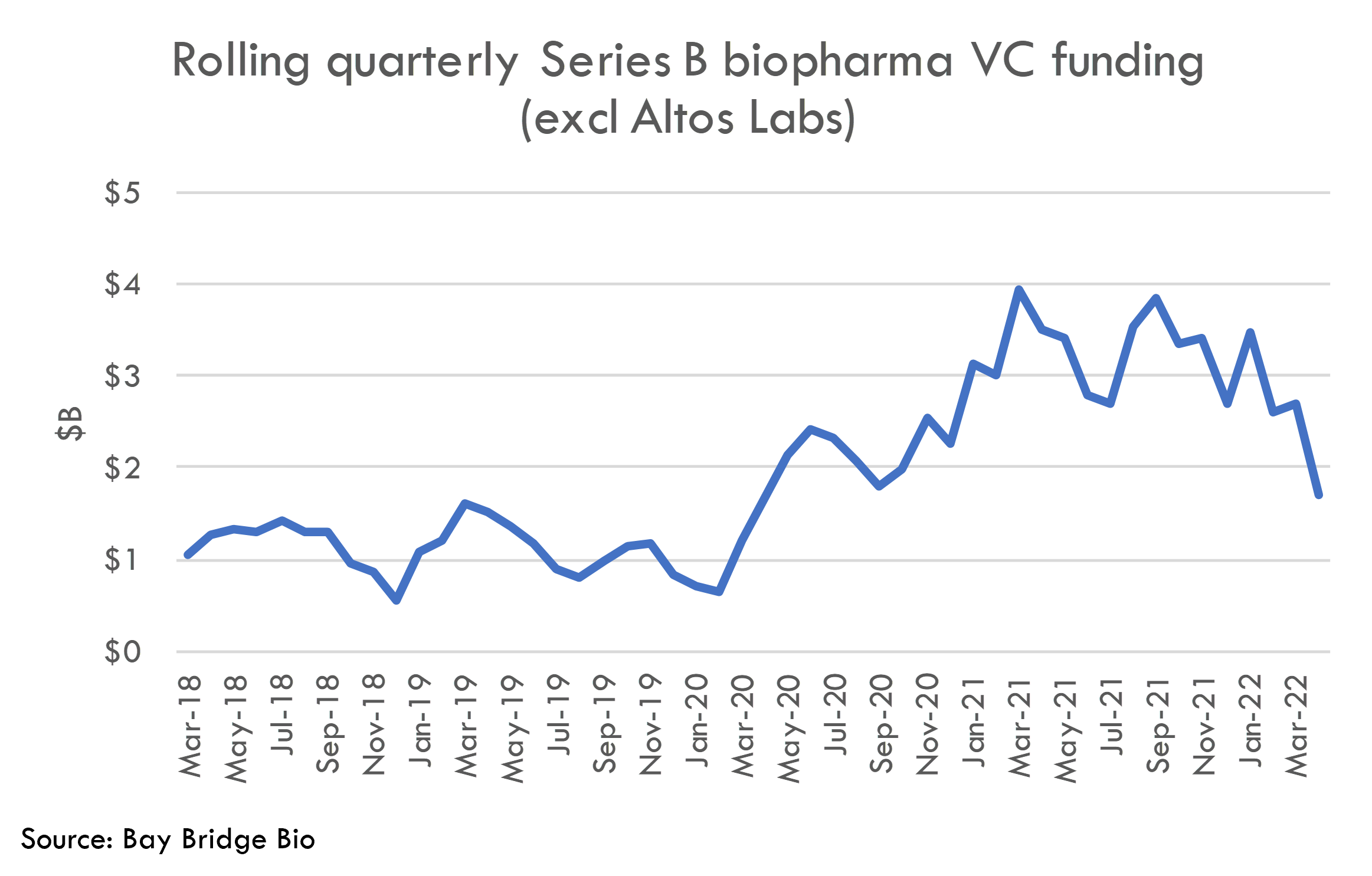 Series B funding has dropped sharply since early 2022. This is expected, as Series B "crossover" investors depend heavily on the IPO market. The investment model of these crossover investors is to fund the last private round of biotech startups and then quickly flip them onto the public markets. Without an active IPO market, this trade doesn't work.
The impact of public market turmoil on the Series B market is even more apparent when we look at the recent activity of the IPO boom's biggest crossover investors. The major crossover investors that funded the 2021 boom have stepped back in a big way: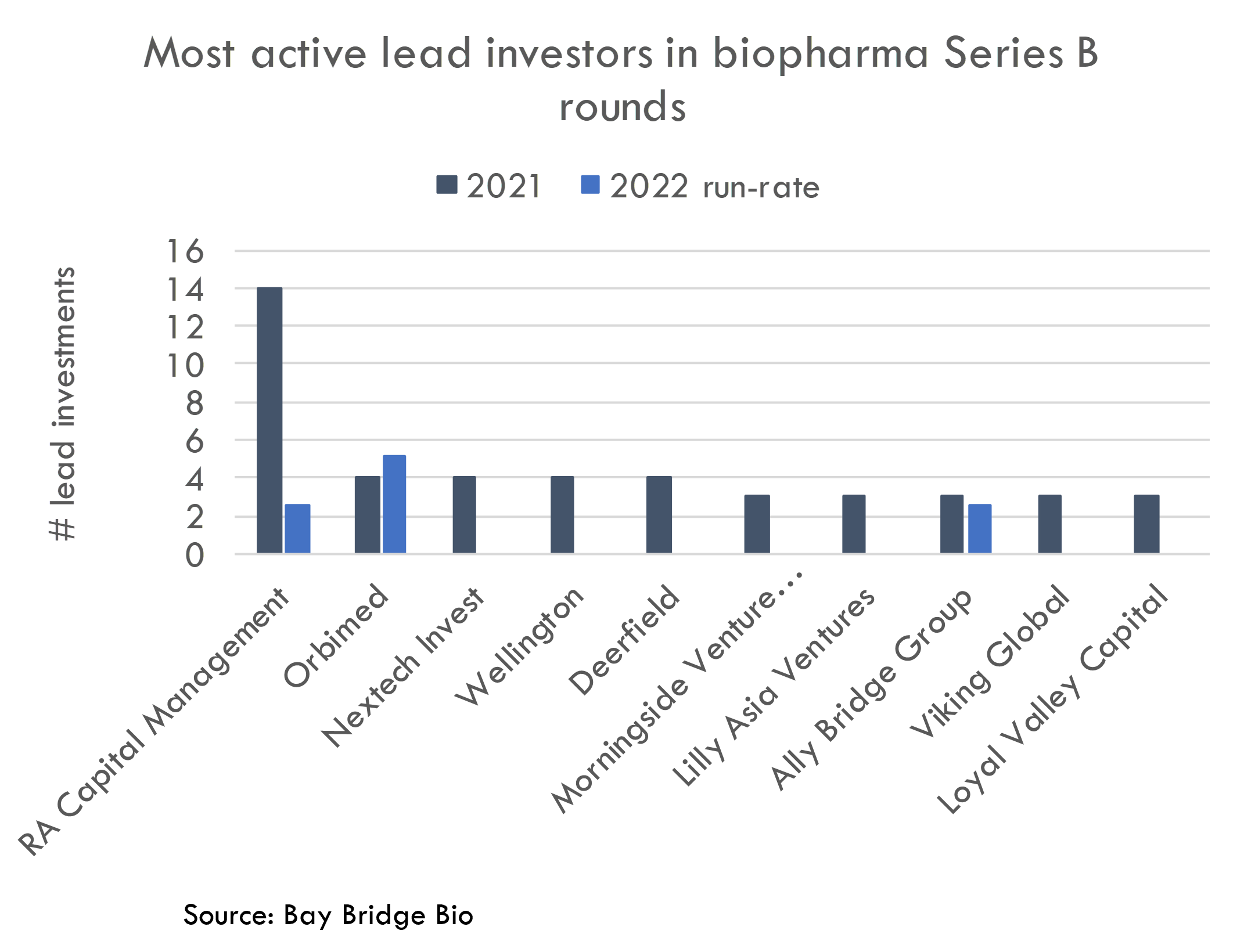 Of the top 10 most active lead investors in B rounds in 2021, only Orbimed is on pace to increase the number of Series B rounds it leads from 2021 to 2022. Seven of the top 10 lead crossover investors in 2021 have yet to lead a B round in 2022.
Benchmark VC performance
Deal-level cash-on-cash returns, proceeds from exits, check sizes, and more for thousands of biopharma investors covering $100B+ in global venture investment.
Most crossover rounds involved many follow-on investors in addition to the lead investors. Those follow-on investors have also dramatically decreased their investment pace: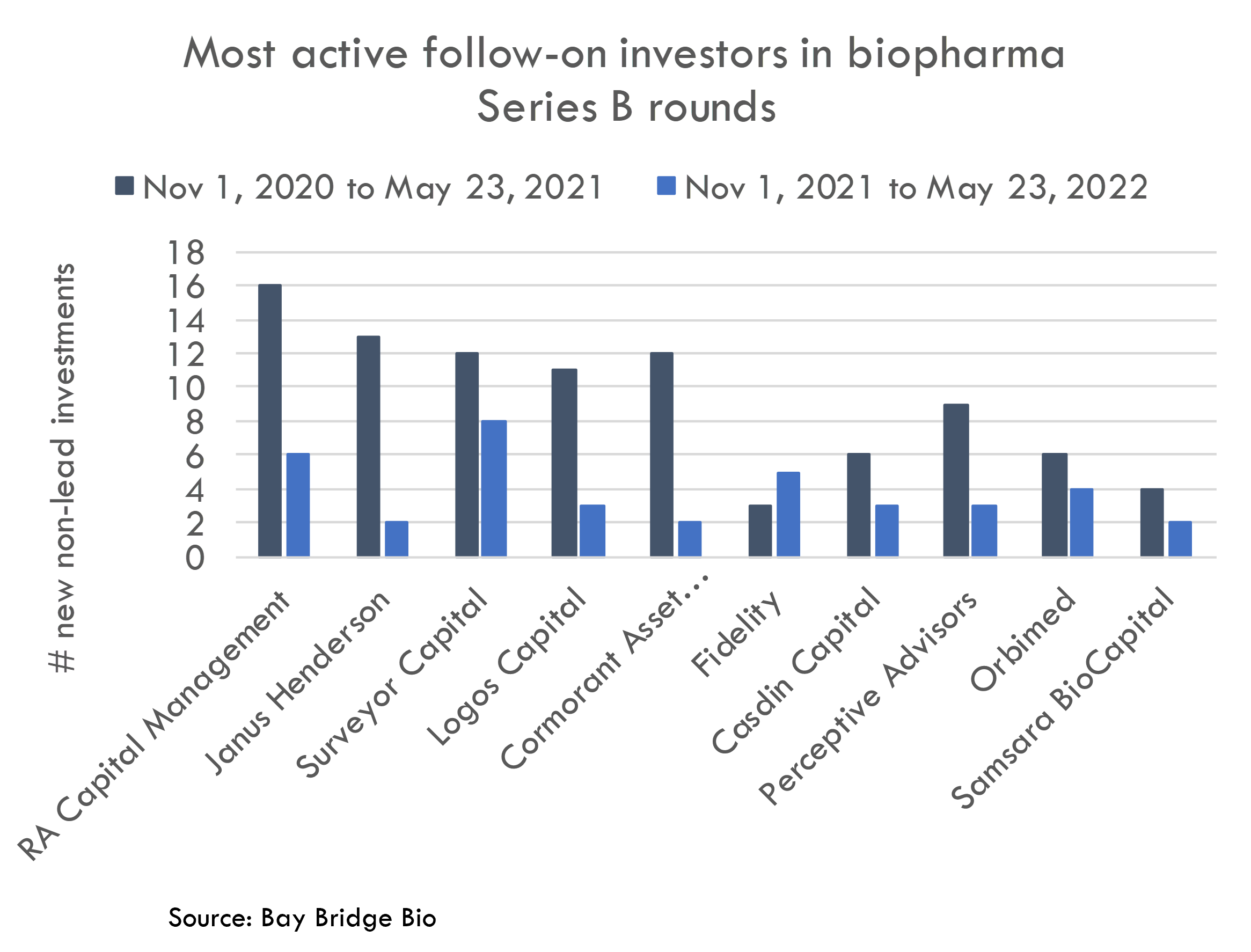 The chart above shows the pace of investment during the last six months compared to the corresponding period a year earlier. RA Capital has slowed its follow-on investments as well as lead investments. Janus Henderson, Logos, and Cormorant have decreased their investment pace by over 70%.
While these investors have slowed down, many of them are still among the most active Series B investors. Below are the most active lead and follow-on Series B investors in 2022 through May 20: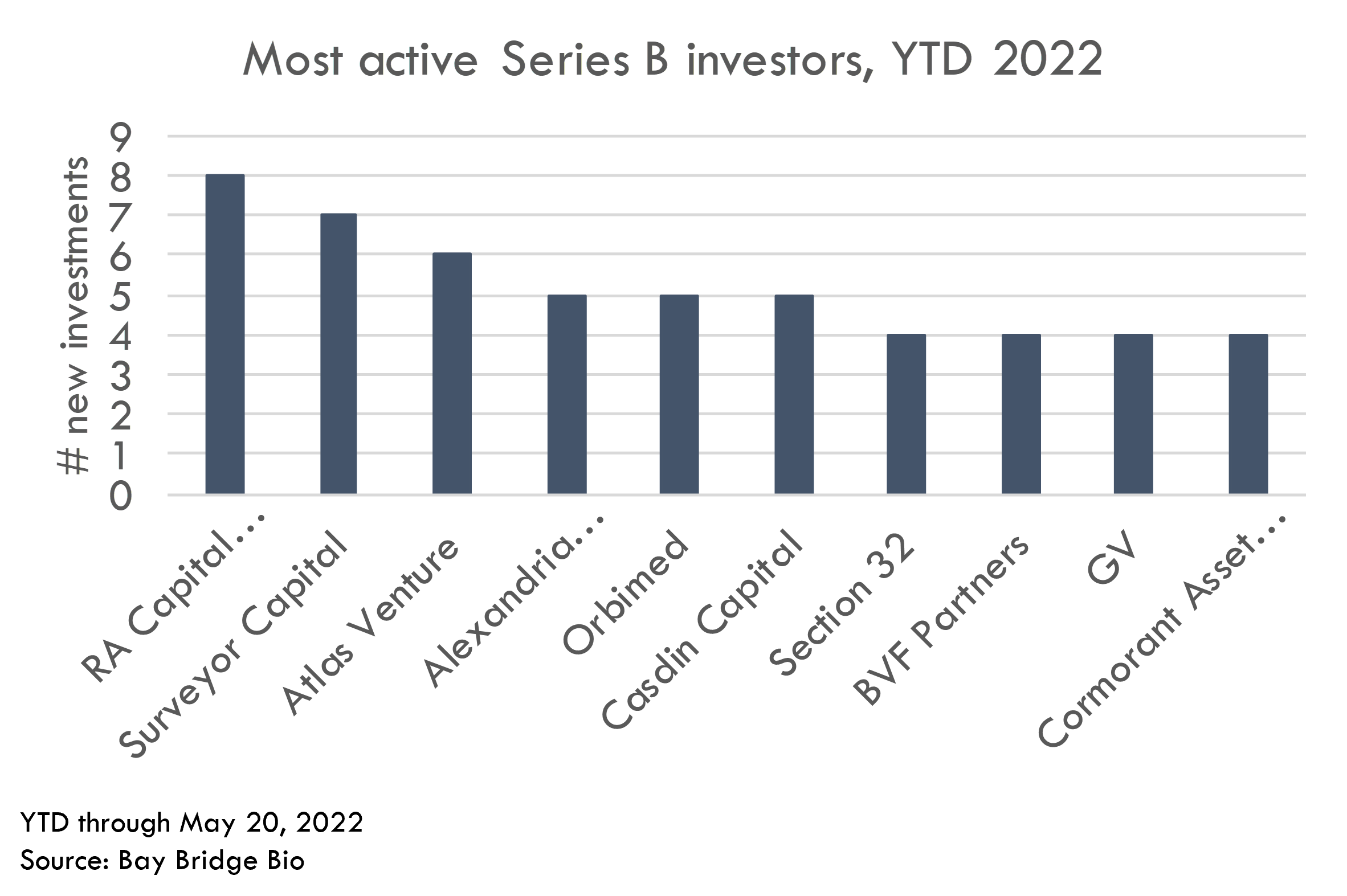 Despite a significant slowdown, RA Capital is still the most active Series B investor (including lead investments and new investments that they don't lead). Surveyor, Casdin and Cormorant are still in the top 10 most active investors as well despite slowing from the breakneck pace of 2021. Orbimed is actually on track to increase its Series B investment pace from 2021 to 2022.
While Series B funding has slowed sharply, the slowdown in Series A funding is less dramatic: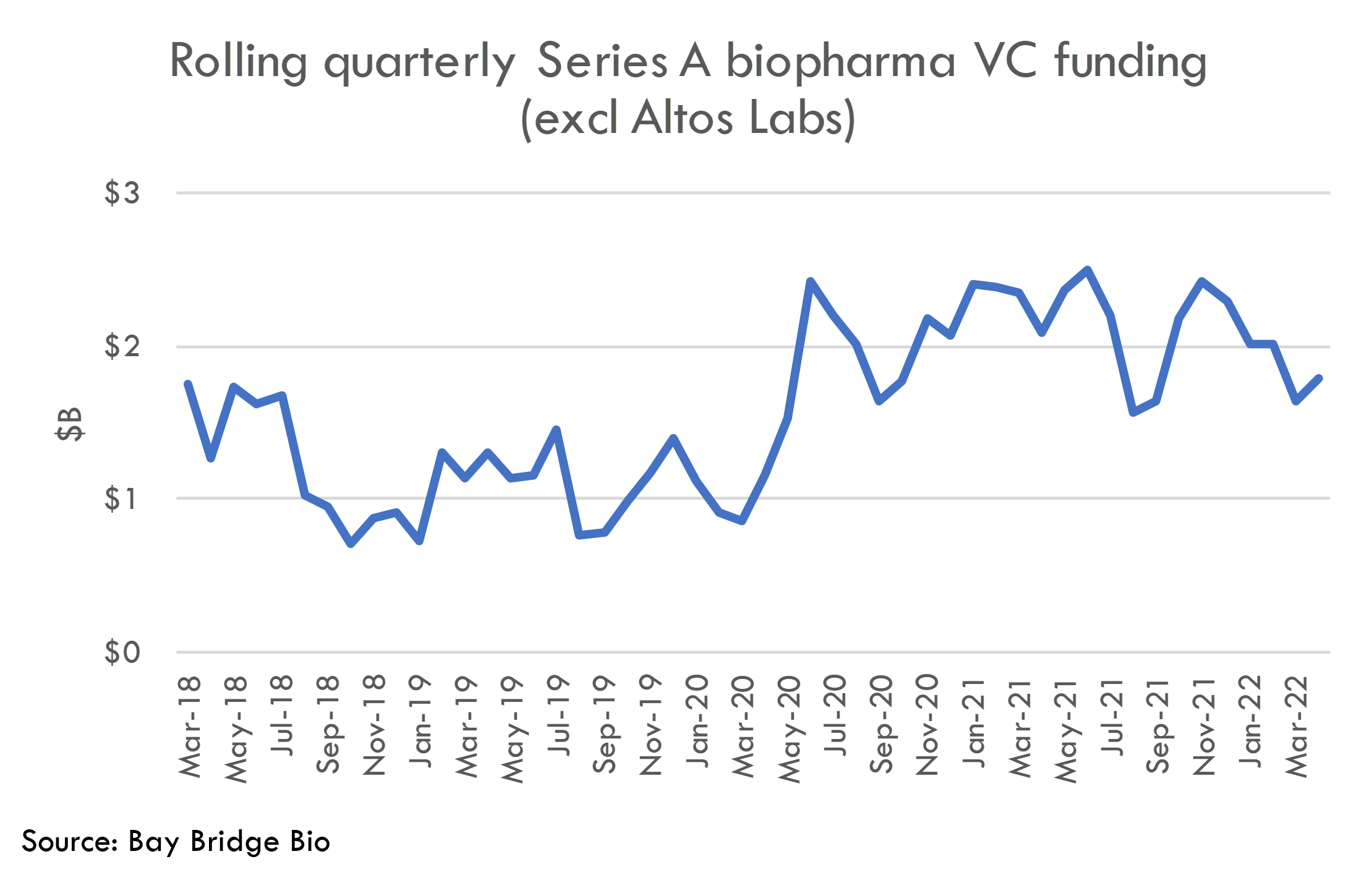 It takes longer for public market troubles to translate to early-stage venture funding. So it makes sense that Series A activity has not dropped as much as Series B investments. However, we can expect Series A funding to continue to decline as long as the broader market remains suppressed. Just as Series B investors slowed down as they saw downstream capital dry up, Series A investing will likely slow as later-stage capital becomes more scarce.
While the amount of Series A funding hasn't changed as drastically as later-stage funding, the makeup of Series A investors has changed significantly. Thus far in 2022, none of the traditional Series A biotech VCs (those who were the most active prior to the COVID bubble) are in the top 10 most active investors. The top 10 Series A investors thus far in 2022 are crossover investors, generalist investors, newer funds, or funds that traditionally follow-on rounds led by others.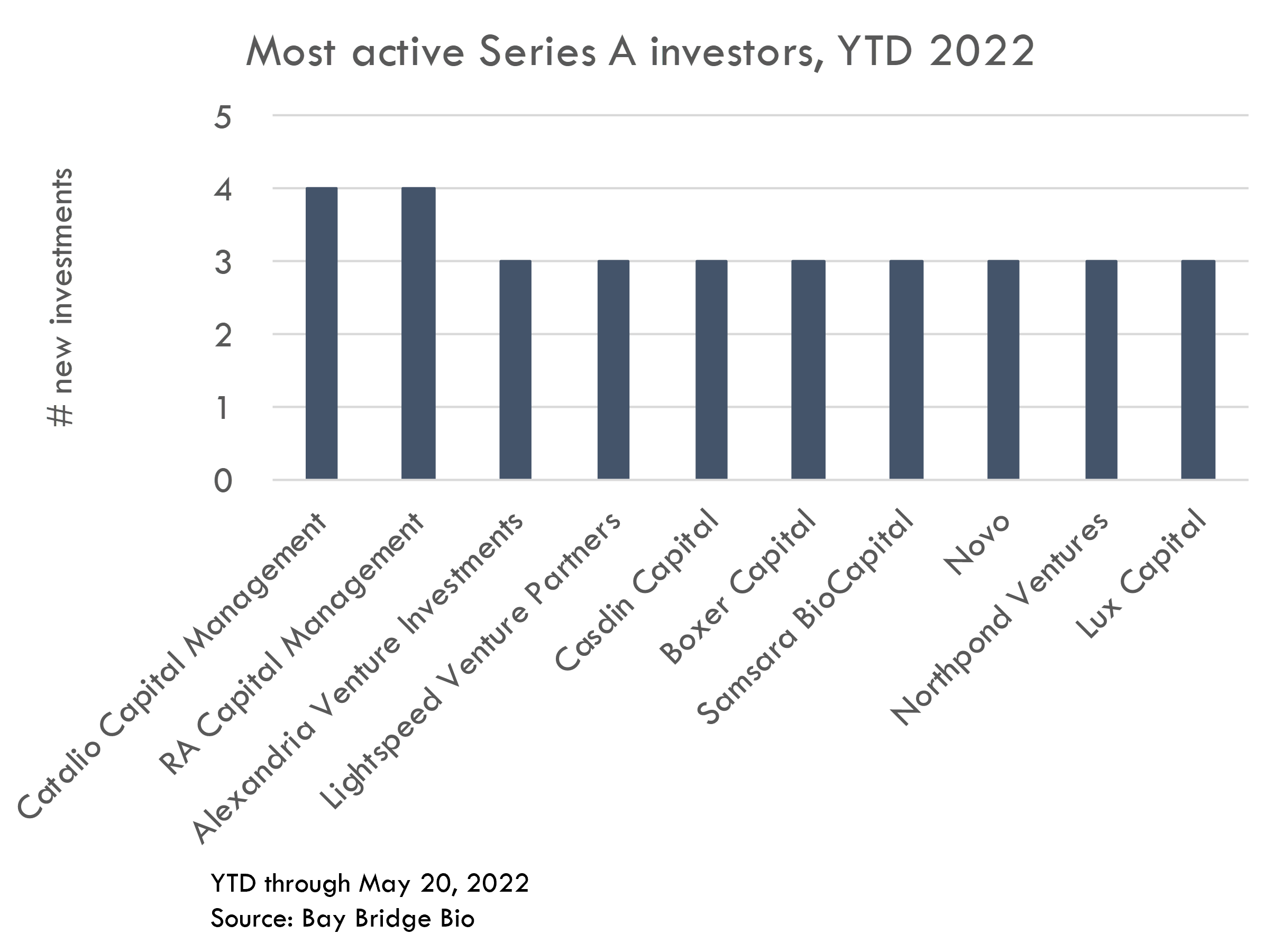 While funding is still at record levels, it is declining steadily and there are more companies than ever looking for funding. The investor landscape will continue to evolve as the market shifts. The investors who end up funding your next round may not be who you expected.
Benchmark VC performance
Deal-level cash-on-cash returns, proceeds from exits, check sizes, and more for thousands of biopharma investors covering $100B+ in global venture investment.
1 Not all funding rounds are announced, and some funding rounds are announced a few weeks or months after they are closed.