Top biotech venture capital funds of 2018 and 2019
by Richard Murphey
Whether you're a startup looking for funding or an aspiring VC looking for a job, it's a good time to be in biotech. 2019 was the second biggest year on record for biotech venture capital, with $14B invested in biopharma startups globally. It was a great year for exits as well, with 37 big IPOs of VC-backed biopharma startups raising a total of $4.2B, and $37B in acquisitions of biopharma startups.
This continues the strong market of 2018. 2018 was the biggest year for biotech venture capital on record, with $17B invested globally into biopharma startups. 2018 was also a great year for exits, with 46 big venture-backed IPOs and $37B worth of M&A exits (in this post, I use "biotech" and "biopharma" interchangeably to mean companies developing FDA-regulated prescription medicines -- no devices, diagnostics, etc. Biopharma is by far the biggest subsector of healthcare VC.).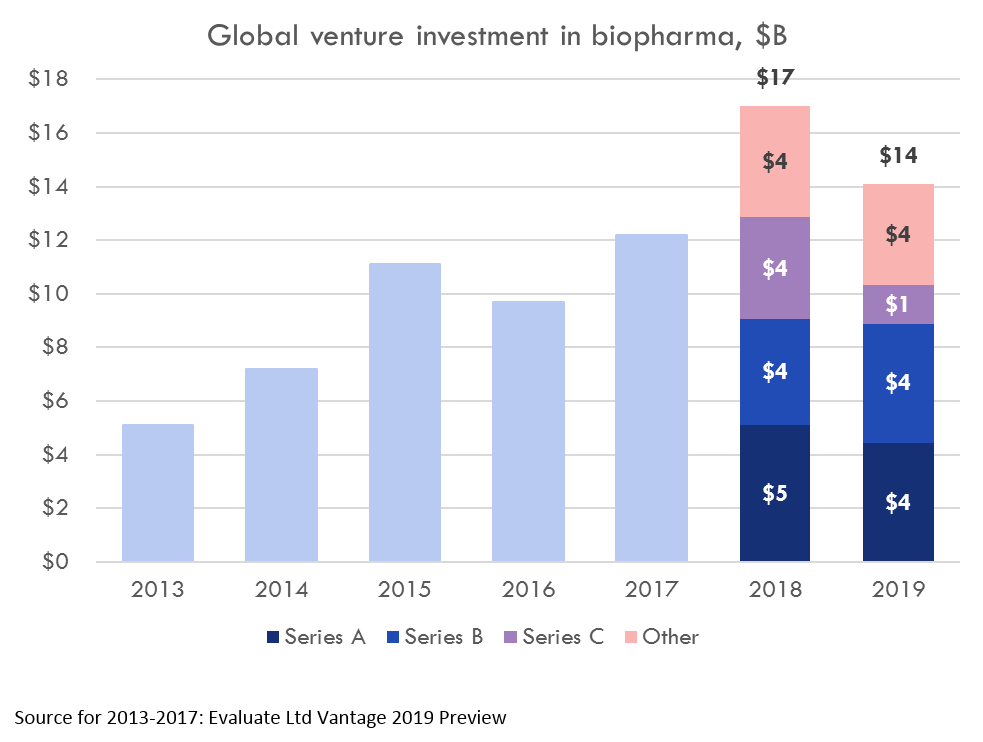 This post will describe the top biotech venture capital firms from 2018 to today:
What kinds of investors fund biotech startups?
Who were the most active biotech VCs in Series A and B rounds in 2018 and 2019?
Which VCs made the most money from IPO exits in 2018 and 1H 2019?
Which VCs had the best M&A exits in 2018 and 2019?
Perhaps most encouragingly, the biggest investments and exits were for companies with life-saving medicines and transformational technology. The industry now seems to value true innovation more than incremental advances and me-too drugs. If you're interested in seeing what kind of startups investors are funding, checkout our searchable list of recently funded biotech startups.
Who's investing?
As the amount of capital invested in biopharma startups has skyrocketed since 2013, new classes of investors have entered the sector. Crossover investors (investors who traditionally invest in public biotech companies but also selectively invest in private companies), who used to focus on later-stage investments, are becoming active at the Series B stage, and even lead the occasional Series A round. In 2018, Chinese investors became one of the most active funders of biopharma, both in China and abroad. However, increased US government scrutiny of Chinese investments has essentially halted Chinese investment in US biopharma companies in 2019.
Late stage funding has become highly competitive with many new entrants, but early stage funding is still dominated by traditional biotech VCs.
Notably, generalist tech VCs are slow to enter the sector. Generalist tech VCs are becoming more active in "bio", but generally focus on investing in companies that focus on non-pharma verticals, or that provide products or services to pharma rather than developing their own drugs.
What kind of investors led the most biopharma Series A and B deals in 2018?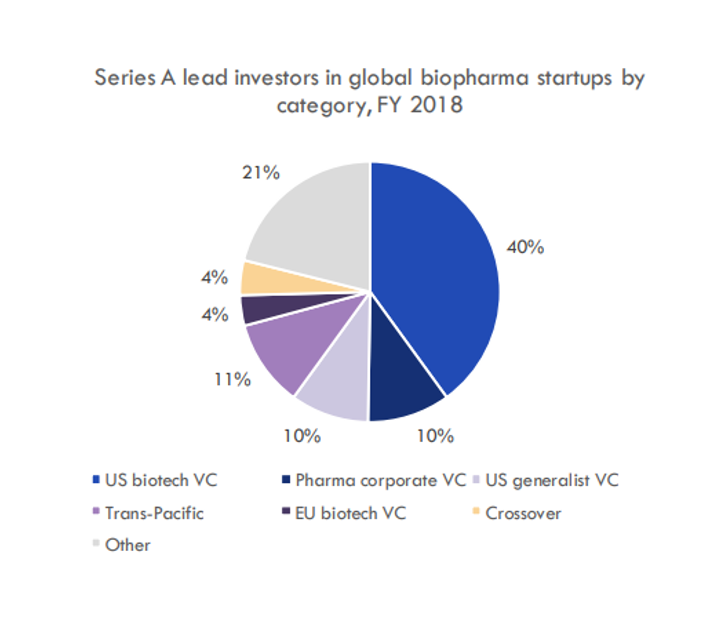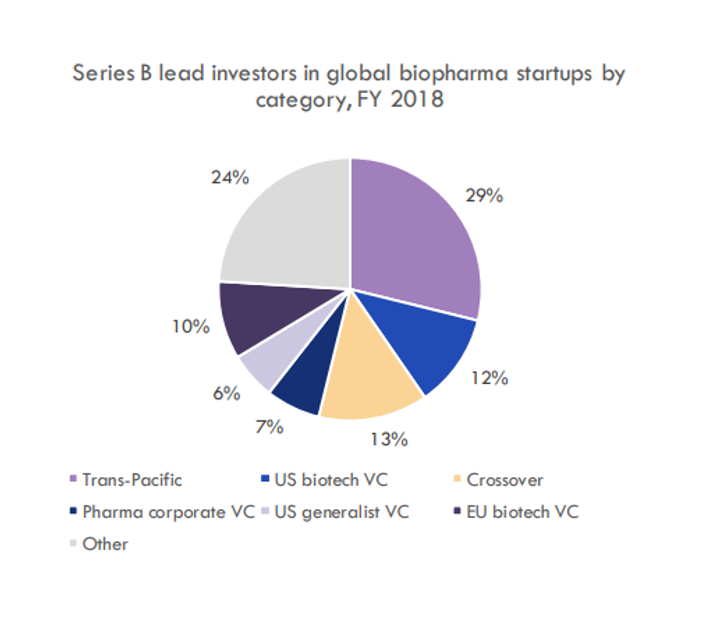 How are things shaping up through the first half of 2019?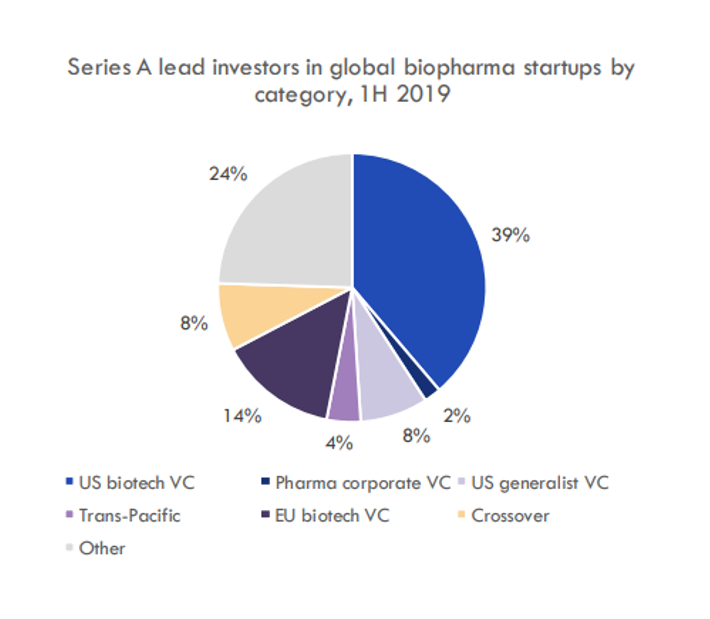 Series A funding is still dominated by specialist US biotech VCs. European biotech VCs have become more active, representing 14% of lead investors in Series A biopharma rounds in 1H 2019 compared to just 4% in 2018. Pharma corporate VCs and Chinese investors reduced their share of Series A investing in 1H 2019 compared to 2018.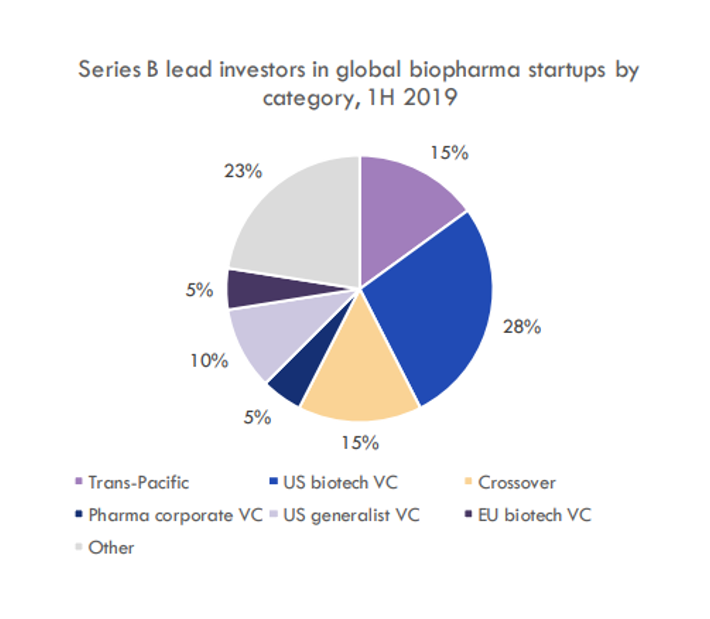 The shift in Series B funding has been more dramatic. Chinese investors were the most active lead investors in Series B rounds in 2018, but their share of global Series B investing has dropped by half in 1H 2019. The decline in Chinese investment in US biotech startups is even more dramatic, with an 80% reduction in Series B investments in US companies led by Chinese VCs.
US biotech VCs have picked up the slack, increasing their share of lead roles in Series B deals from 12% in 2018 to 28% in 1H 2019.
Find biopharma investors who lead Series A and B rounds
Get a list of biopharma investors who led $10.2B in Series A and B rounds from 2018 through today
Few active lead investors
2018 was notable not just for total VC investments in biopharma, but also for the record level of Series A investing. Though Series A investing is down modestly in 2019, it is still near historic levels. As shown previously, Series A investing is dominated by US-based biotech VCs. Within this subset of investors, only a handful of investors lead more than 2 Series A deals each year.
The top Series A investors are also company creators and many of their A investments go to companies they build in-house. They then syndicate out to crossover investors (public equity investors who invest selectively in private markets, often in the last private round), Chinese investors, and corporate VCs.
Series A investing decreased in 2019. Notably, only one of the top five Series A investors in 2018 is in the top five in 2019 (ARCH). While Series A investment declined year-over-year, Series B funding is up slightly since 2018. Notably, there are 3 "tech" funds in the group of most active Series A lead investors, with DCVC, GV and KPCB leading two Series A deals each.
Who were the most active lead Series A nvestors in 2018 and 2019?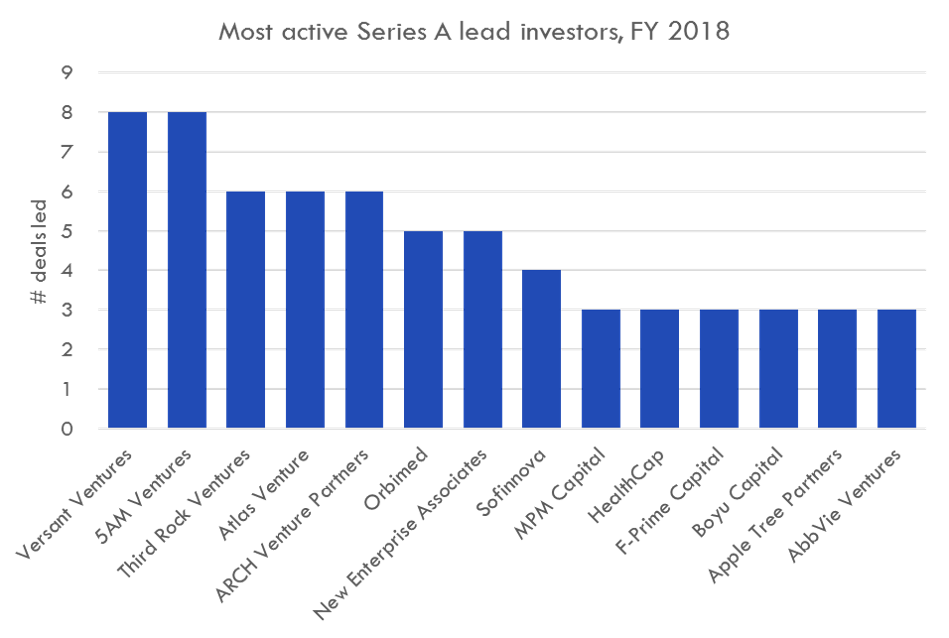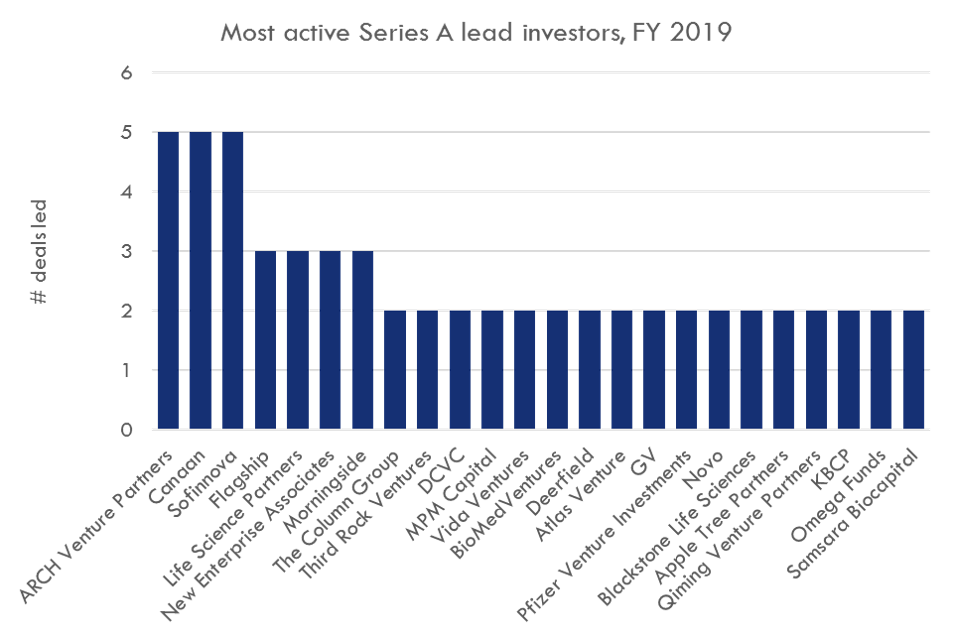 What about the top Series B investors? The biggest change from 2018 to 2019 is the decline of Chinese investors. Chinese investment in US biotech companies has been a casualty of the trade war. None of the leading Chinese Series B investors of 2018 are in the 2019 leaderboard.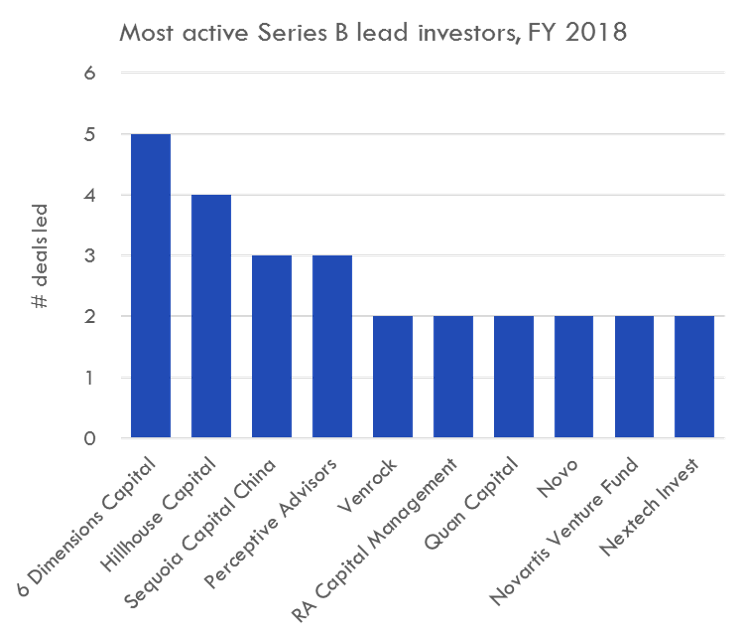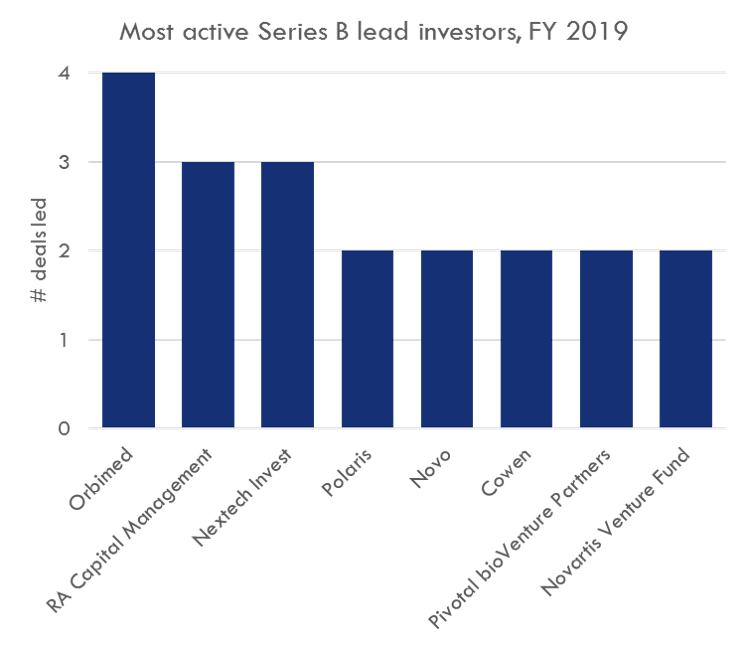 Find biopharma investors who lead Series A and B rounds
Get a list of biopharma investors who led $10.2B in Series A and B rounds from 2018 through today
Who's exiting?
In biotech these days, exit is often through IPO. Here are the VCs who made the most through IPO exits in 2018 and 1H2019: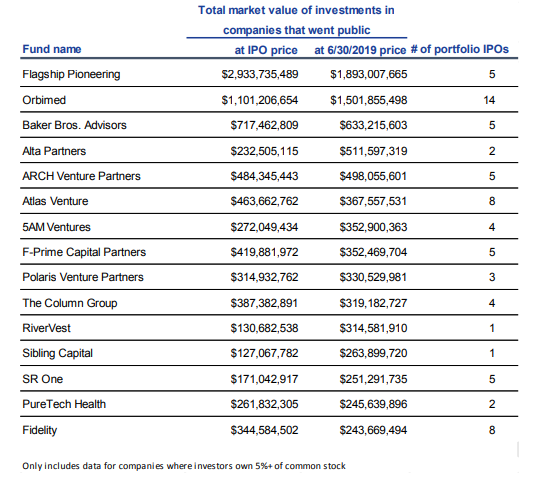 This is calculated using data from publicly available SEC filings, which disclose the price per share for venture investments, pre-IPO stock splits, shares held by major investors (with 5% or greater ownership), and in many cases the amount that major investors invested in each private round. This data is incomplete in that it only captures investors who own 5% or more of a company's shares, so smaller investors aren't captured. The amount of venture capital invested for each investor is not always disclosed, and in some cases the shares invested in private rounds do not sum to the total shares owned by the investor at IPO. In these cases the amount invested per investor is not meaningful, or "N/M".
The biotech IPO market has continued to be active in 2019. To learn more about the kinds of companies going public, and what valuations these companies commanded as private companies, check out this post. I also did a writeup on the returns that venture capital firms have generated from their investments in startups that went public. To stay updated on IPOs through 2020, check out this table of recent IPOs.
M&A exits were less common than IPO exits. The total amount of M&A was roughly steady from 2018 to 2019. The biggest VC-backed biopharma buyouts in 2019 were:
Eli Lilly's $8.0B acquisition of Loxo Oncology (VC / private investors include Aisling, Orbimed, New Enterprise Associates, Access Industries)
Roche's $4.8B acquisition of Spark Therapeutics (VC / private investors were Sofinnova, Brookside Capital, Deerfield, Rock Springs Capital, T. Rowe Price, Wellington and Children's Hospital of Philadelphia)
Astellas' $3.0B acquisition of Audentes Therapeutics (VC / private investors were Orbimed, 5AM Ventures, Cormorant Asset Management, Cowen, Deerfield, Foresite, RA Capital, Redmile, Rock Springs Capital, Sofinnova, Versant and Venrock)
Sanofi's $2.5B acquisition of Synthorx (VC / private investors were Avalon Ventures, Correlation Ventures, Medicxi, Orbimed, Osage University Partners, RA Capital)
UCB's $2.5B acquisition of Dova Pharmaceuticals (VC / private investors include PBM Capital, Perceptive Advisors)
Ipsen's $1.3B acquisition of Clementia (VC / private investors include Orbimed, New Enterprise Associates, RA Capital, Janus Henderson, Rock Springs Capital, EcoR1, UCB Biopharma, BDC and Fonds de solidarite des travailleurs du Quebec)
Merck's $1.0B upfront / $2.2B total acquisition of Peloton Therapeutics (VCs include The Column Group, Vida Ventures, Topspin Fund, Biotechnology Value Fund, EcoR1, Foresite, Nextech Invest, Curative Ventures, Driehaus, Eventide, Orbimed, RA Capital and Tichenor Ventures)
The two biggest exits in 2018 were Celgene's acquisition of Juno for $11B, and Novartis' acquisition of AveXis for $8.7B. Both companies were public at time of exit, and both raised their Series A rounds less than five years before exit. The major investors in AveXis were Deerfield, Roche Venture Fund, and Paul Manning (an angel investor). The major investors in Juno were ARCH Venture Partners, Venrock, the Alaska Permanent Fund (not really a VC) and Bezos Expeditions.
To stay updated on biopharma startup funding and exit trends through 2020, check out our free startup dashboard for summary info updated on a regular basis.
You may also like...
List of recently funded biotech startups
Valuations of biotech startups from Series A to IPO
List of novel Parkinson's drugs in development
Venture returns from biopharma IPOs, 2018-Q1 2019
Bay Bridge Bio Startup Database
How to value biotech companies
Did you enjoy this article?
Then consider joining our mailing list. I periodically publish data-driven articles on the biotech startup and VC world.